How Do Air Purifiers Work? 4 Things You Need to Know
Have you ever wondered how do air purifiers work? Is it as effective as the enticing promises? These questions have been asking by many consumers for a long time. This article has thus condensed a snippet of useful information about an air purifier.
The covid-19 pandemic has caused a lot of us forced to spend more time indoors. However, a recent study suggests that COVID-19 restrictions have been negatively affected the patients who are suffering from dust mite allergy. More time spent indoors mean the increased exposure to dust mites and other indoor pollutants.
| | | | | |
| --- | --- | --- | --- | --- |
| |   | |   | |
| Plasmacluster Air Purifier |   | Plasmacluster Air Purifier with Humidifier |   | Plasmacluster Air Purifier with Mosquito Catcher |
| Coverage area 23m² |   | Coverage area 50m² |   | Coverage area 23m² |
According to the Environmental Protection Agency (EPA), indoor air pollution is about two to five times worse than outdoor pollution.
Indoor air may contain microscopic particles that invisible to the human eyes and can be hazardous to health. These pollutants can be trapped inside our homes.
Facts About an Air Purifier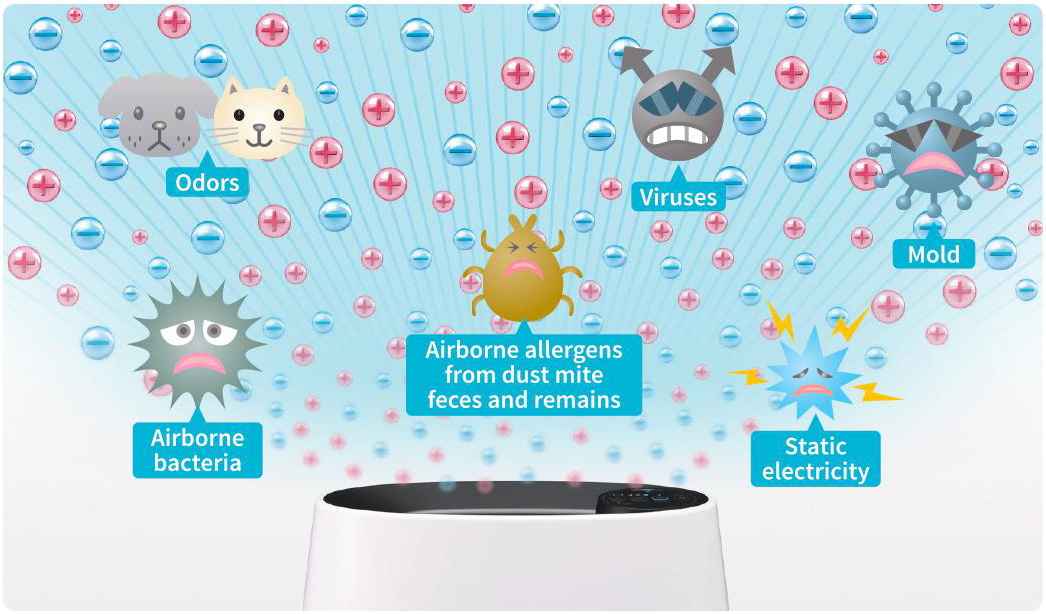 At its simplest, an air purifier is an indoor device that traps and filters harmful particles and releases fresh and cleaner air afterward. Most air purifiers have been proven can effectively remove indoor pollutants such as bacteria, dust, pollen, odor, pet dander, to name a few.
An air purifier can limit the spread of harmful particles and allergens to prevent respiratory diseases or allergy problems in humans. The device is widely used in offices, homes, learning centers, and hospitals.
Who needs Air Purifiers the most?
Health conditions concern

 

All of us need clean indoor air, especially for those suffering from allergies and respiratory system problems such as asthma. Better air quality in your office, home, school, and car can reduce allergy and asthma triggers.

Stay in modern houses or buildings

 

Modern buildings are designed to be more energy-efficient. Thus, the buildings are better sealed to comply with the requirements. In that cases, the airflow circulation is compromised, and pollutants can be trapped inside the house. For instance, you are more likely to need an air purifier in terms of more artificial ventilation.

 

 

Some buildings are exposed to various pollutants from vehicle exhaust, construction contaminants, fresh paints, and more. Installing an air purifier can filter all these harmful particles from your indoor air if you occupy those buildings.
How Do Different Types of Air Purifiers work?
Here comes the central part of this article after we have gone through the purifier's facts. We knew this indoor device is used to purify the indoor air, but how does it work?
Let us dig deeper into the operational principle of air purifiers depend on different filter types.
An air purifier with HEPA filters sucks air into the machine and passes through the filter using the internal fans. Airborne pollutants will then get trapped inside the dense materials as they pass through the filter. Then, clean air flows out the other side for you to breathe.
The HEPA filter is the most popular filter among all as it can capture fine pollutants as tiny as 0.3 microns in size, including dust, pollen, mold, and some bacteria.
Same as how HEPA works, an air purifier that uses an activated carbon filter also pulls air through the filter to trap contaminants.
The main difference between these two types of purifiers is the materials used. Activated carbon is a specially treated medium with high porosity that could adsorb the pollutants as air passes through it.
An ionizer is another air purifier that does not use any filters to clean the surrounding air.
Ionizer works by emitting negatively charged ions that are combined with the particles and make them dense. The denser particles will be too heavy to move freely in the air and fall onto the ground or other surfaces.
In short, the contaminants will still exist inside the room until you clean them up.
Air purifiers with an Ultraviolet (UV) light feature use short-wave UV-C light to inactivate airborne germs such as bacteria and viruses.
As air is forced through the device, it will pass the UV lamp, which directly attempts to disinfect the air through germicidal irradiation.
Some Questions that You Might be Asking
The air purifier is among the preferred options to tackle indoor air pollution. However, many doubts might arise when it comes to purchasing decisions. Here are some common questions and answers that consumers often ask.
Q1: Is an air purifier good for health?
A1: Based on W.J. Fisk's study, the largest potential benefit of an indoor filtration device is the reduced morbidity and mortality due to reduced exposure to harmful particles from the outdoor air.
In Short, the answer is a 'Yes' if you have chosen the right purifier. One thing we can confirm is air purifiers can reduce the level of indoor fine particulate matters (PM2.5) with a wide range of health improvements.
Q2. Are there any other functions of an air purifier apart from cleaning the air?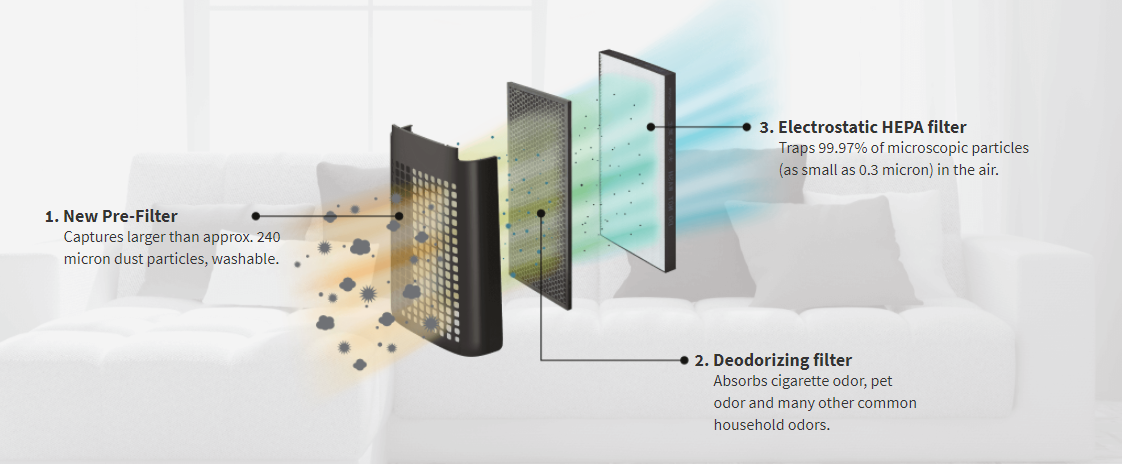 A2: Some modern models are equipped with other functions such as mosquito catcher and humidifying ability. All these features and functions are designed to fulfill the different requirements and needs of the buyers.
Q3: Can an air purifier filters everything?
A3: No indoor air purifier can remove everything unpleasant from the air. It is easier to filter out larger particles such as pollen and dust. The right purifier type needs to be chosen to filter out the microscopic contaminants such as bacteria and volatile organic compounds (VOCs).
Q4: Can an air purifier help you sleep better?
A4: A study concluded that clean air during sleep could positively affect bronchial inflammation (Bronchitis) and allergic asthma. Bronchial inflammation showed a sharp decrease due to the decline of allergen exposure in the sleeping zone.
Based on Dr. Jeff Bennert, improving indoor air quality can reduce eyes, skin, and lung irritation, which can soothe your body for deep sleep. An air purifier can reduce odors, creating an unobtrusive nighttime environment that is perfect for good sleep.
Bottom Line: Do Air Purifier Really Works?
In short, air purifiers use their internal filter system to trap and filter out harmful airborne pollutants like allergens, bacteria, and dust. The air purifier will then circulate the purified air back into the building.
As indoor air pollution has been a growing concern nowadays, the air purifier is a popular option to eliminate particulates that can irritate our bodies.
Choose the Best Air Purifiers for Your Loved Ones
-Our top picks at one glance-
High-density Plasmacluster Ions Air Purifier
Exclusive air purifying technology from SHARP
With Sharp's proprietary Plasmacluster ion (PCI) technology, positive and negative ions are discharged when the air purifier is switched on. These ions deactivate airborne contaminants by attaching to them while extracting a hydrogen compound to break down the protein membrane, resulting in water molecules, which are returned to the air.
Plasmacluster Technology emits more positive and negative ions in a room than even those found in a forest. It is proven to be safe and highly effective, no matter how high the ions' density is.
Plasmacluster is thus increasingly finding applications in various areas of activity, such as in businesses, in addition to household use.
Plasmacluster provides you with natural and safe air. This unique technology from Sharp applies the power of nature.
Plasmacluster - Proven to Eliminate Airborne Contaminants
Beyond the power of purifying the surrounding air- SHARP air purifiers can do a lot more. We care for the air you breathe in, and we care for your health.
Plasmacluster Ions Clean the Room Air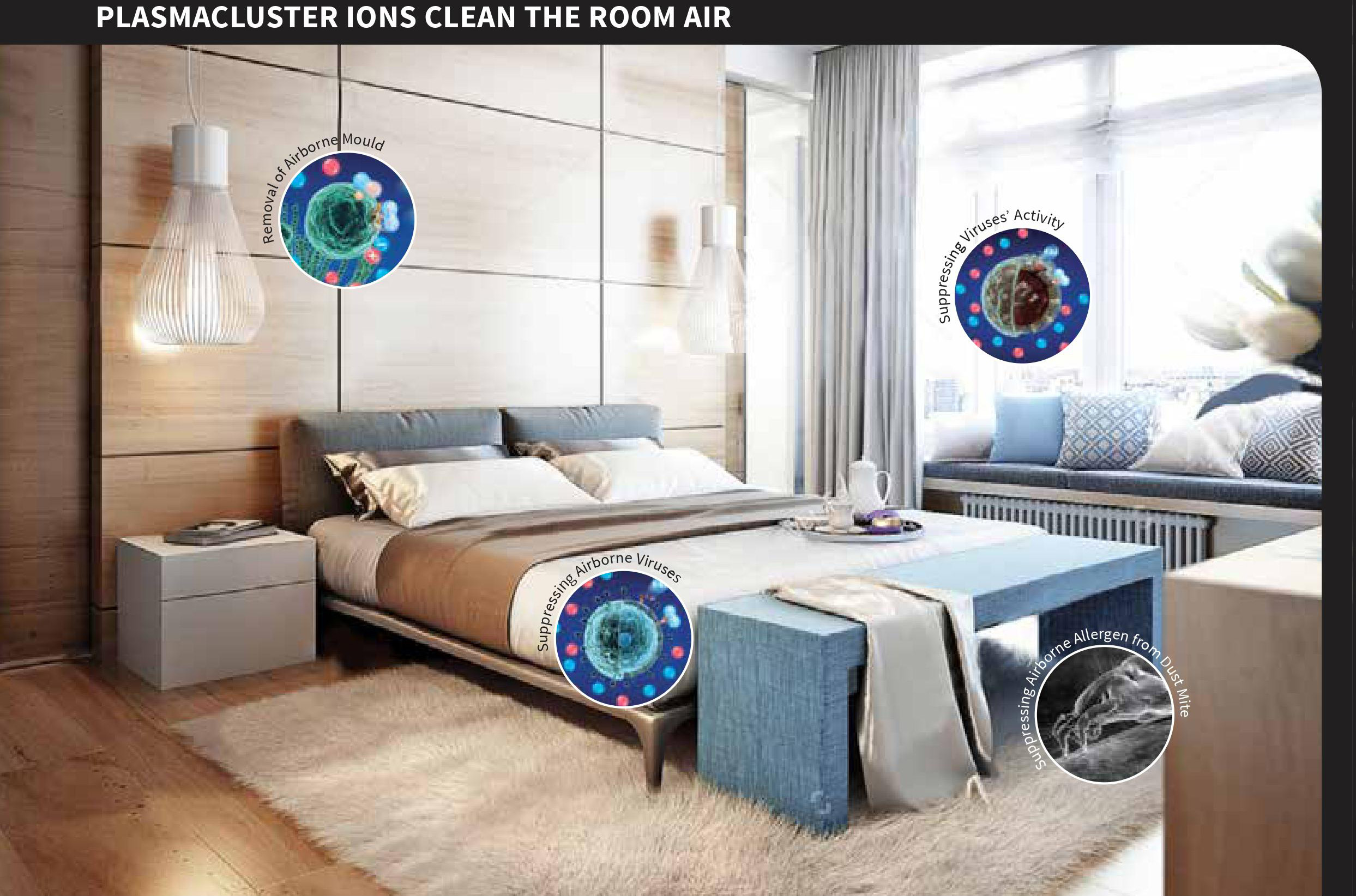 Proven by test results, Plasmacluster Ions could:
Remove airborne mold
Reduce and adhere the growth of mold
Suppress the activity of airborne and adhering viruses
Suppress airborne microbes activities
Suppress airborne allergen activities from dust mite feces and remains
Suppressing the Activity of Airborne, Adhering Viruses and Microbes [5]
Viruses and microbes are the things that parents worry about the most as they will negatively affect children and oldies' health.
Tested by Pasteur Institute in Ho Chi Minh City, Vietnam, Shokukanken Inc., and Japan Food Research Laboratories, all the three experiments concluded a 99% reduction of airborne and adhering viruses and microbes.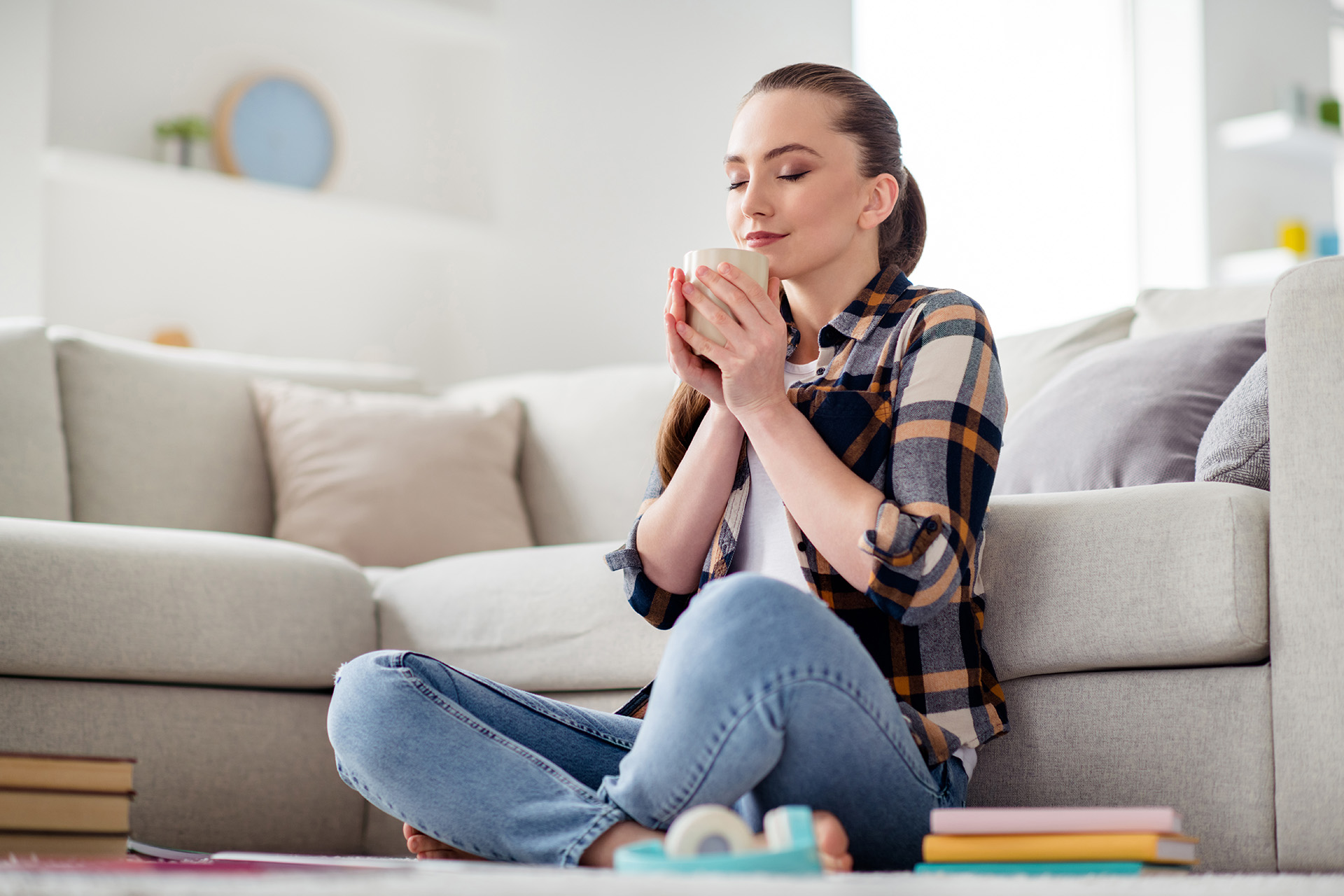 Removing Stubborn Odors
Plasmacluster Ions can break down and remove clinging odor emit from cigarettes, sweat, and pets.
Reduction of Static Electricity
Were you always annoyed by the sudden 'shock' feeling when touching your family or wearing a cloth? That's static charges! Our purifier can reduce static electricity that annoys you.
Remove Haze
Plasmacluster Ions can reduce 98% of Toluene and 70% of Pentanone. The air purification technology can remove 99% of haze particles as small as 0.06 μm in size.
Reduce More Than 90% of Airborne Novel Coronavirus (SARS-COV-2) In 30 Secs
Plasmacluster technology by Sharp is proven to be first in the world to reduce more than 90% of airborne Novel Coronavirus (SARS-COV-2) in 30 Secs.
What Can Our HEPA Filter Capture?
High-performance filters capture airborne dust particles.
99.97% capture and removal of 0.3-micron dust particles
Tree pollen and grass pollen that cause allergy
Allergens like dust mite feces, animals' dander, and mold
Viruses and airborne microbes
Odors
The concept of different particle sizes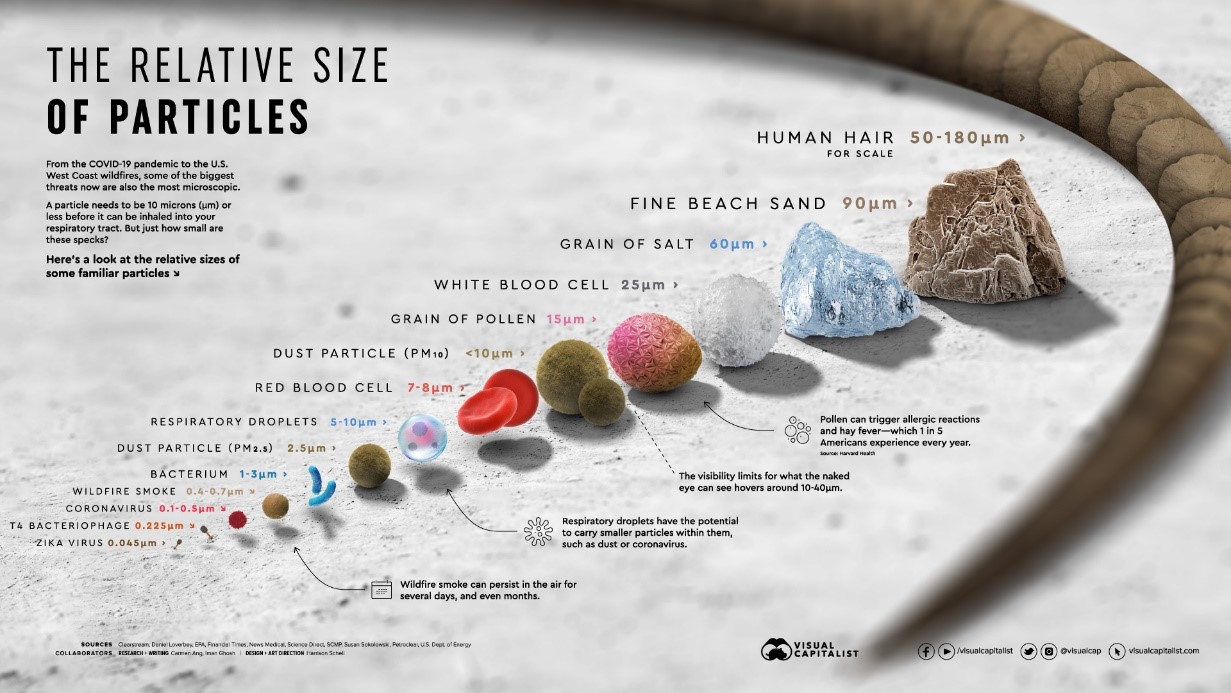 Infographic by Visual Capitalist
Average Particle Size (microns, μm) that HEPA Filter Can Capture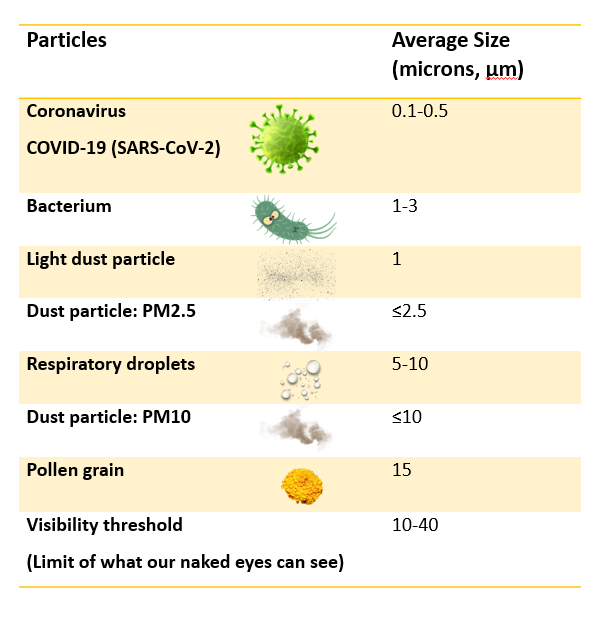 Infographic by SHARP with reference
Strong suction and Coanda airflow explanation
Powerful air suction and unique airflow quickly and efficiently collect dust and other particles
Faster airflow at a 20º angle collects dust at lower levels in the room for more effective cleaning. Plasmacluster can remove static electricity and can thus prevent dust from attaching to walls and other surfaces.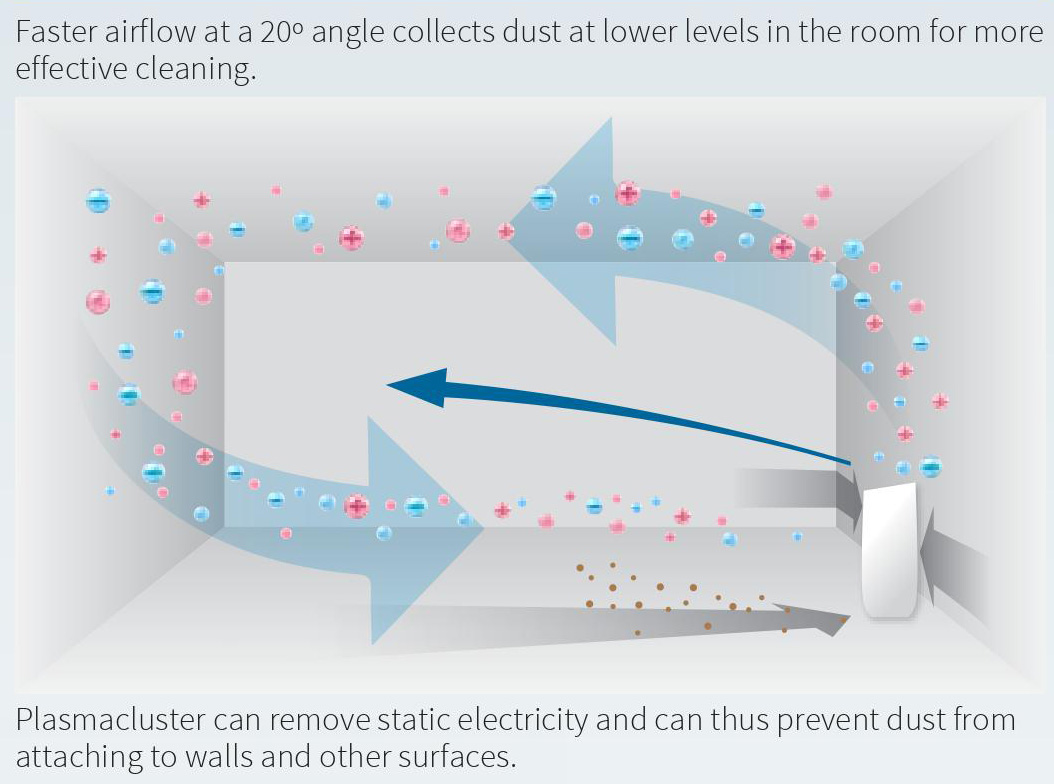 We Have Different Models That Suit Your Different Concerns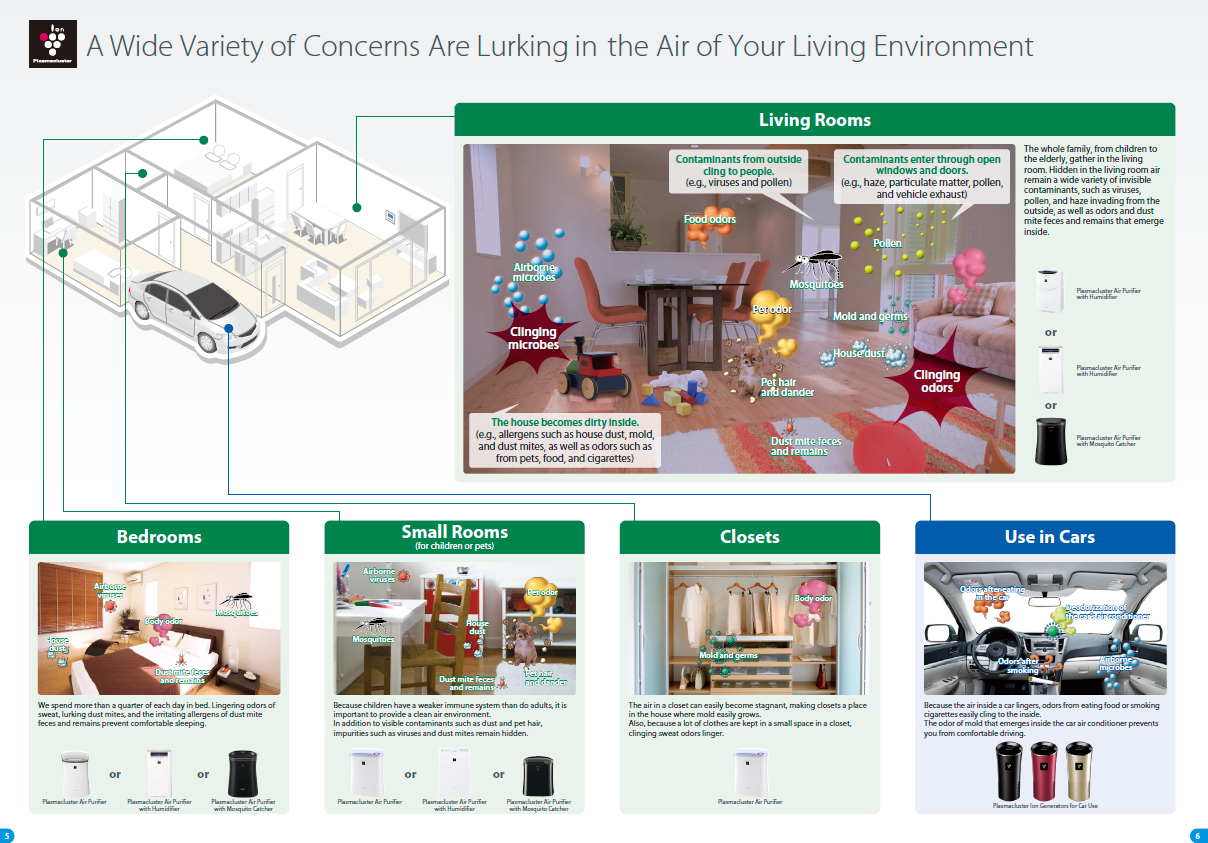 Living Rooms
The whole family, from children to the elderly, gather in the living room. Hidden in the living room have a wide variety of invisible contaminants, such as viruses, pollen, haze invading from the outside, odors, and dust mite feces.
Recommendations:
| | | | | |
| --- | --- | --- | --- | --- |
| | or | | or | |
| Plasmacluster Air Purifier with Humidifier |   | Plasmacluster Air Purifier with Humidifier |   | Plasmacluster Air Purifier with Mosquito Catcher |
| Coverage area 62m² |   | Coverage area 50m² |   | Coverage area 30m² |
Bedrooms
We spend more than a quarter of each day in bed. Lingering odors of sweat, lurking dust mites, and the irritating allergens of dust mite feces and remains will affect the sleeping quality.
Recommendations:
| | | | | |
| --- | --- | --- | --- | --- |
| | or | | or | |
| Plasmacluster Air Purifier |   | Plasmacluster Air Purifier with Humidifier |   | Plasmacluster Air Purifier with Mosquito Catcher |
| Coverage area 30m² |   | Coverage area 50m² |   | Coverage area 30m² |
Small Rooms (for children and pets)
Children have a weaker immune system than adults. Thus, it is important to provide them with a clean air environment. Choosing the right air purifier can protect your kids from visible contaminants such as dust and pet hair to hidden impurities such as viruses and dust mites.
Recommendations:
| | | | | |
| --- | --- | --- | --- | --- |
| | or | | or | |
| Plasmacluster Air Purifier |   | Plasmacluster Air Purifier with Humidifier |   | Plasmacluster Air Purifier with Mosquito Catcher |
| Coverage area 23m² |   | Coverage area 21m² |   | Coverage area 30m² |
Closets
The air in a closet can easily become stagnant, making it a place where mould can easily grow. Due to many clothes being kept in a small space in a closet, clinging sweat odors often linger.
Recommendations: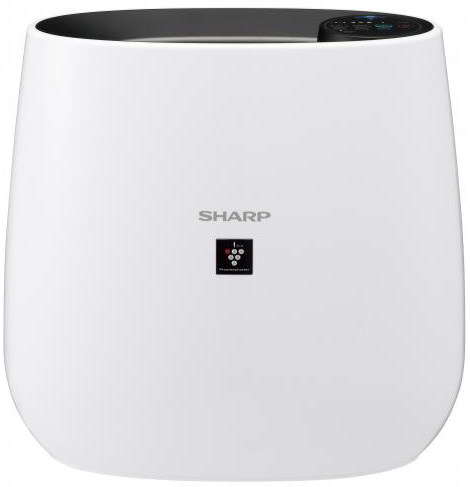 Plasmacluster Air Purifier
Coverage area 23m²
We have a lot more than you can imagine. Are you looking for the safest and most effective air purifier? Click Here for more product models and specifications!
*This blog article is for informational purposes and should not replace your doctor's or other medical professionals' advice